Coming Soon/In The Workshop



4.12 – 4.14  NEW Bob Thomason dulcimers – c£290
New dulcimers from Bob's workshop in rural Georgia.  Unusual, solid woods in a variety of designs – and all at an affordable price.  Further details shortly.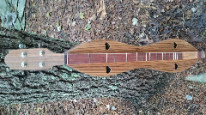 1.51 – Magic Mountain Teardrop – Model 4120 – c£

Sold
A fairly late model from a well-respected Californian workshop.  Nothing fancy but just well put together.  This one needs some work before it goes out, but should be well worth considering for a beginner/intermediate player.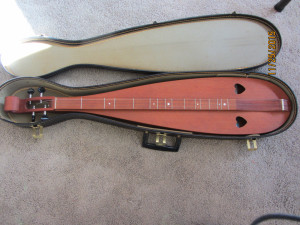 1.52 – Anonymous English dulcimer – c£160
Quite a shapely dulcimer – possibly made from a kit?  I'm going to replace the rather spindly wooden tuning pegs and tidy up the bridge/lower the action.  Should make a good entry level instrument in due course.


3.10 – Late 70s? – Fox Fire Hourglass – 4 String – £180
Marked "# 147, Fox Fire Dulcimers, Handcrafted, Walnut Cherry Poplar Oak Chestnut, Billy R McCoy 1704 Bellwood Drive, Centerville TN 37033" and signed by the maker. Name and shape suggest a link with Robert Mize's superb instruments, but this is not of the same quality. Probably made from walnut with a chestnut (or oak) top, it has an attractive sapwood streak on the back. Sounds good but needs some work on the body and the intonation. Overall length 36¾, upper bout 5¾", lower bout 6½", side depth 2", FBW 1⅜", VSL 27″ (medium scale), weight 2lb 0oz (906g). No 6½ fret yet.