Traditional Style and Historic/Unusual Dulcimers

Note on jargon:  VSL = Vibrating String Length, i.e. the scale length of the dulcimer.  Longer scale lengths often give better tone, but playing is a little more difficult because the string tension is higher and fingers have to stretch further. FBW = Fingerboard width.  Standard modern fingerboard width is around 1½", which is ideal for chording and fingerstyle playing.  Earlier instruments, particularly those intended for noter/drone playing (i.e. on the melody string only), can be much narrower.  The 6½ or 6+ fret is standard on modern dulcimers, which are usually tuned DAD and need the added fret to complete the D major scale.  Older instruments were more commonly tuned to DAA, where the D major scale starting on fret 3 does not require the extra fret.

Ken Bloom Bowed Dulcimers:
     3.60  2014  3 String – £

Sold
     3.61   2015  4 String – £

Sold
Yes, amazingly, I was offered two bowed dulcimers in the space of a week!  They are a real rarity over here, but a substantial minority interest in the US.  Playing the dulcimer with a bow has a long history in the US, and reaches back to the instrument's origins in the 18th century fretted zithers of Northern Europe.  Ken Bloom is the man who, almost singlehandedly, revived and developed the instrument into its present form – a mixture of viola da gamba and deep-bodied, teardrop chromatic dulcimer.  Can be strung like a viola, violin or dulcimer.  They make a fabulous sound – see the videos here and here.


3.59 – 1970s?  – Jon Paterson 3 String Hourglass – Hybrid Diatonic/Chromatic Dulcimer – £

Sold
Unusual – possibly unique – dulcimer from a little known British luthier, which is also good-looking and practical.   Basically a diatonic dulcimer, but chromatic – i.e. with all the frets – on the melody and middle strings.  The fretboard layout is very similar to that of modern epinettes, which can play in both major and minor keys, without re-tuning, against a common bass drone.  Plays well, sounds good and the unusual layout is easy to accommodate with practise.


3.58  Ken Hamblin 1977 4 String Hourglass   £275 + £20 case
A fairly early dulcimer from this well-known Virginia maker.  Although he came from a poor, rural background and learned hand woodworking in the traditional way, his engineering training enabled him to update the design of the old dulcimers he saw around him.  His dulcimers have bigger bodies, guitar-type tuning pegs, modern intonation and an attractive balanced sound, as well as the signature partial capo on the bass string, which he called his "Old Joe Clark" bar!    Read the detail and you'll find why I left this dulcimer exactly as I found it, including without a 6+ fret.


3.53, 3.40 & 3.43   Three Warren May – 4 String Hourglass
Two more classic Kentucky dulcimers in their modern incarnation.  Both work really well as intended, for traditional-style playing, but I can upgrade them with compensated bridge and modern tuners for different playing styles.
3.53  1982 #1635  £Sold 
Earlier all walnut model, with particularly attractive soundholes – butterflies in the UB and natural knotholes in the LB.  Has the traditional diatonic scale (i.e. no 6+ fret) and Warren's early "Kentucky Scale" – a fret placement particularly suited to traditional noter-style playing and 1:5:5 tuning (e.g. DAA or CGG).  Not suitable for modern chord-melody or finger-style play.  An attractive instrument, quite loud, but sweet.
3.40  1990 #5614  £Sold
Beautifully luminous mahogany dulcimer with bookmatched top and back, together with the standard rustic wooden pegs.  Looks like a piece of high quality furniture with its unmarked shimmering warm brown mahogany – and that is, after all, Warren's other trade. BUT, it plays really well, with good sustain, brightness and depth of tone. 1990 must have been a vintage year: #5667, sold in November 2014, was a great sounding dulcimer also.
3.43  1997 #9866  £Sold
What a stunning top!  The lightly built body, made from local cherry, produces mellow woody tones typical of a traditional dulcimer, but with modern chunky frets and intonation.  The contoured, flecked top makes it stand out in a crowd and is one of a piece with the rustic hand-cut wooden pegs.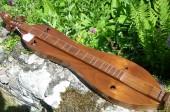 3.37 and 3.38    Warren May – 4 String Hourglass – £Sold inc. case/ £

Sold

no case
These are modern-day versions of the classic Kentucky dulcimer, beautifully hand-crafted by master woodworker Warren A May in Berea, Kentucky.  The first is a very attractive cherry instrument with hand-carved pegs and a mellow, traditional sound.  The second, just arrived, is possibly butternut and the lightest dulcimer I've ever owned…but it makes a great big sound – indeed it's one of the best-sounding traditional style dulcimers I've played.  Both are made for old time music and are best in DAA tuning or similar.  Can be played either noter or finger-style.

 
Glenn Family Dulcimers – 3 and 4 String  
I've been fortunate enough to pick up a number of Glenn Family dulcimers in the last few months.  These are some of the most important old-style instruments of the revival period – and to my mind some of the most elegant and musical.  Leonard Glenn and his son Clifford built dulcimers in Sugar Grove, N Carolina for over 50 years.  Leonard died in 1997 and Clifford stopped making dulcimers and sold his patterns in 2011.  These are truly handmade, beautifully crafted instruments, as described in Ralph Lee Smith's famous book "Appalachian Dulcimer Traditions".  I may be selling one or possibly two.  Because they are all in excellent condition and highly playable – and of great historic interest – they will start at around £450.
3.25 – 1965  Clifford Glenn 3 String Hourglass  £

Sold
Early example of Clifford's skills.  Very squarely cut pegbox, thin tailpiece and shallow sides.  Largely walnut construction, but with hardwood – possibly butternut – top.  Light construction, flush sides and simple heart soundholes, tails facing inwards (cut with chamfer inside).  Sweet, quite light sound.  No 6½ fret.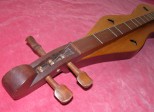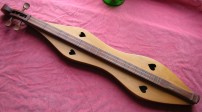 Click on pictures for further details and larger images
3.29 – 1974 Leonard or Clifford Glenn 3 String Hourglass  £

Sold
Also an earlier model with 3 strings, square cut (non-flared) headstock, shallow body.  Probably all walnut, but darker, figured sides.  Water and light damage to label has obscured first name and part of date, so could be either by Leonard or Clifford.   Sound as above, but with significantly higher action, possibly for noter playing.
Click on pictures for further details and larger images
3.31 – 1978 Clifford Glenn 4 String Hourglass   NFS
Striking all quilted ?(tiger) maple body, with deeper sides than 1965 and 1974 models above.  Odd string layout with 6 slots for 2/3 different configurations, one clearly intended for doubled middle string.  Brighter, as you would expect from a maple body, with no loss of the Glenn musicality.

Click on pictures for further details and larger images 

3.30 – 1978 Clifford Glenn 4 String Hourglass   NFS
Similar to above but walnut sides, fingerboard, head, tailpiece, pegs;  unknown, patterned hardwood top;  quilted maple or possibly cherry back.  The same string options as above, and has been now been set up with doubled middle string, nearest of pair tuned to D (DAdA).  Interesting how the extra drone d fills out the sound when played noter style.
Click on pictures for further details and larger images
3.26 – 1981 Leonard Glenn 3 String Hourglass  

Sold
A late Leonard Glenn instrument in perfect condition.  The sides, headstock scroll, hand chiselled pegbox, pegs, fingerboard, nut and bridge are also walnut, but back and top are sassafras (or possibly chestnut), each with a neat, incised decorative line all round, 6mm from the edge.  Later style strum hollow is conventional, rather than simply a chamfered length of the fingerboard, as in the earlier Glenns.
This is an elegant and musical dulcimer.   Like Clifford's instruments, it is long and elegant – with its shorter pegbox perhaps slightly better proportioned than the 4 strings.  Simply constructed, but with great flair and exceptional workmanship, it has a fine singing voice, great responsiveness, good intonation in 1:5:5 tuning and – despite its relatively shallow body – some volume.
Click on pictures for further details and larger images
3.28 – 1982 Clifford Glenn 3 String Hourglass   NFS
A lovely later model, this time from Clifford.  This appears to be made almost entirely of cherry – dark, flecked sides and paler, slightly ginger grainy single-piece back.  Probably also cherry headstock, neat Glenn scroll and usual high tailpiece.  Possibly cherry nut and bridge.  Complemented beautifully by dark red, close-grained (western red?) cedar top.  As a later model, has chamfered pegbox and conventional strum hollow.  Brighter than some, great noter dulcimer.
Click on pictures for further details and larger images



2.46 – 2006 – Meredith Slone 4 String Hourglass – £190
A modern all cherry, all solid wood dulcimer with old-fashioned features – fiddle edges, no 6+ fret, notched wood nut and bridge, dowel string anchor etc.  Sounds great in 1:5:5 tuning (e.g. DAA) and will be left as is, unless anyone specifically requests an intonated bridge and /or additional fret.


3.3 – 1970s? – Anonymous Galax-Style Hourglass – 4 String – £

Sold
An interesting and unusual dulcimer in the style of Virginian instruments made around the Galax area.  Unknown maker.  Has three hand-carved wooden tuning pegs and a chunky nut, cut for three equal size, unwound strings tuned in unison – the classic Galax configuration (e.g. DDD).


3.14 – 1972 – John Maxwell "Teardrop" – 4 String – £

Sold
On a typed slip inside:  "Mountain Dulcimer/ hand made by/ John Maxwell/ Cookeville, Tenn./ #386  1972".  Beautiful warm all-cherry instrument from a noted Revival maker.


3.21 – 1983 – Robert Mize Hourglass – 4 String – £

SOLD
Dulcimer #1682 made by Robert R. Mize from Blountville, Tennessee.   Exceptional dulcimer from one of the most reputable Revival makers.  This solid cherry instrument has a swirling, quilted grain which shimmers in light and is outstandingly beautiful.  The design, workmanship and attention to detail throughout are excellent.  It has a mellow sound with real depth of tone.  However, the lack of 6 ½ fret, the wooden pegs and the intended Ionian (1-5-5 e.g. DAA) tuning make it more suitable for experienced players than beginners.


3.24- 1964 – Jethro Amburgey – 3 String – £

SOLD
This is an important and rare example of a classic early Kentucky dulcimer from a noted maker.  Handwritten label inside says "#611, Jethro Amburgey, Hindman, Ky, March 16 1964".  Jean Ritchie used an Amburgey dulcimer when she first went to New York in 1948 and caught the imagination of the nascent folk scene in the 50s and early 60s.  In many ways, therefore, Amburgey established the norms for the dulcimer's shape and sound in the revival era.  One of two purchased from an Amburgey relative who remembers "Uncle Jethro" attending Jean Amburgey's 100th birthday back in 1969.