NEW Folkcraft dulcimers
David and Melissa Marks started Folkcraft Instruments in Vermont in 1974, moving to Winsted, Connecticut in 1980.  David was a music teacher on the look out for cheap, easy to learn instruments when he came across the mountain dulcimer.  First he worked with students to build dulcimers, then set up on his own part-time, By 1975, the business was booming sufficiently for David to give up teaching.  In 1989, Folkcraft bought the Rugg and Jackel FolkRoots business and took over its product line.  Folkcraft was sold in 2007 and the workshop moved to Woodburn, Indiana.
Folkcraft is one of the two big US builders of mountain dulcimers, with McSpadden.  It prides itself on always using sold woods in its handmade instruments and on creating each instrument with pride and tradition.  It remains a family business, with two generations of luthiers putting their skill and experience into every instrument.  Click on images at bottom of page to enlarge.
Instruments currently available in the UK (others are available by order, please ask):
4.18  NEW  Folkcraft FSH Series hourglass 4 string   £Sold including soft carrying case  
Printed label – "Folkcraft Instruments/ Handmade in the USA since 1968/ Folkcraft FSH Series/ 8123062 [h/w]/ Luthier: Jim Ash [h/w]/ Date: 12/30/2016".
All northern cherry body, bookmatched top and sides, cherry headstock and white oak (?) arched fingerboard. MoP markers at frets 3, 7, 10.  Extra 1+ and 8+ frets.  Scroll head and 5 Star banjo tuners.  New heart-in-sun soundholes.  Hard composite nut and bridge.
Overall length 36½", upper bout 5⅝", lower bout 6⅜", depth 2", FBW 1½", VSL 27″ (medium), weight 2lb 5oz (1059g).  6+ and 13+ frets.  Original strings 12, 16, 25w (only 3 strings fitted but can have 4).
Very smart looking dulcimer.  The cherry body gives it good responsiveness and a nice full, but crisp sound.
4.08  Walnut/Spruce D Series Folk Roots with classic Heart tone holes, 29″ scale length – £Sold inc soft case
Printed label:  "Folkroots Dulcimers/ Handcrafted by/ Folkcraft Instruments/ [website]/ Model: FolkRoots Serial # 20141891/ Luthier: S.J. Ash [h/w].  Typical big-bodied D series instrument with sold walnut body and alpine (?) spruce top, heart soundholes (facing to tail) and walnut headstock.  Walnut (non-overlay) fingerboard with MoP markers at 3, 7, and 9; 6+ and 13+ frets; and FolkRoots logo stamped on the strum hollow.  Simple walnut pegbox (closed at the bottom) with good quality chrome/nickel open-geared guitar-style tuners.  Nut and bridge look like ebony but are probably some form of composite.  Simple pins as string anchors and chrome strap buttons on tail and head.  Overall length 37¼", upper bout 5¾", lower bout 7⅝", depth 2½", FBW 1½", VSL 29⅛" (long), weight 2lb 5oz (1059g).  6+ and 13+ frets.  Original strings 12/12, 16, 24w.
This is a brand new instrument that has clearly been dropped, probably on its tail.  On arrival, it had no impact marks, but had sheared along both sides and caused a long crack up the back.  The side repairs were not difficult:  the lively (and hence thinnish) back was more problematic and the repair is strong but visible.  Thankfully, it plays really well with a full, sweet tone and plenty of volume when required.  The action and intonation are spot on.  This is a really lovely instrument with a great sound – and a considerable saving on the new price over here of £340.  Two year guarantee on the repair.
Save
Save
Save
4.06 – NEW 2015 FolkRoots D Series Dulcimer – 4 String Hourglass – £Sold
Large-bodied classic with a lovely figured cherry body and classy Engelmann spruce top, new Sun, Moon and Stars soundhole design and a bright, forward sound with the expected Folkcraft easy action.  This example has the intermediate 28″ scale length.
4.09 – NEW 2015 Folkcraft CSH Series Dulcimer – 4 String Hourglass – £Sold inc. soft case.
The semi-custom series with exotic wood fingerboard overlay and tail cap.  A classic walnut body with western red cedar top, heart soundholes and purpleheart trim.  Good looks, excellent feel and a sweet mellow tone.  Shorter 27″ scale.  See pictures 8 & 9 below.
4.10 – NEW 2015 Folkcraft FSH Series Dulcimer – 4 String Hourglass – £Sold
Stunning all-Honduras Mahogany special order dulcimer with elaborate Hearts and Vines soundhole design, arched fingerboard, chrome strap buttons and elephant trunk headstock.  Crisper sound than CSH model above, but the same excellent intonation.  Also with the shorter 27″ scale.   See pictures 10 & 11 below.
4.03 – Mahogany/Cedar D Series Folk Roots with Leaf/Heart tone holes, 27″ scale length – £Sold
Save
4.02 – Hickory FSH Series Folkcraft with Celtic Shield tone holes, 27″ scale length – £Sold
Black Walnut or Cherry traditional hourglass dulcimer KIT – £140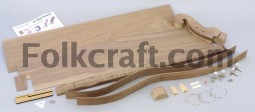 Folkcraft dulcimer kits are ready to assemble. All of the hardware (machine heads, nut, bridge, end pins, strings) is included; the sides are already bent; the scroll head is shaped, routed, and drilled; the fingerboard is already fretted (by the same luthiers that build the world famous Folkcraft and FolkRoots dulcimers); the wood has all been sanded to at least 120 grit; and detailed instructions are included with every kit.  You will need a few hand tools (a knife, a drill, a hammer, a screwdriver), sandpaper, and wood glue to assemble your dulcimer. For finishing, we recommend either polyurethane or a Danish oil.