Dulcimer Tuition

This section is intended to give you pointers, help you decide where to go next.  It is not a step-by-step tutorial.
So let's start at the very beginning….  The best way to learn and improve is to play, live, with others.  In the UK and the US there are regional mountain dulcimer groups who meet regularly to play and learn from each other.  Without fail, they will welcome a newcomer and do their utmost to help kickstart your playing.  A great beginning in the UK or Europe is to join the Nonsuch Dulcimer Club – effectively the UK dulcimer club, because there is no other!  Membership is just £10 per year, for which you get 4 full colour newsletters, a programme of national and regional events and a list of members – so you can find someone near you to help.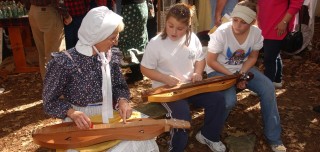 If you are not a joiner or you simply want to learn in the comfort of your own home, there are some good YouTube videos to give you a starting point.  Try Bing Futch's short series of videos "Getting Started with the Mountain Dulcimer" or Strumelia's longer series "Traditional Mountain Dulcimer BEGINNER".  If you want something more thorough and programmed, look at one of the US internet dulcimer schools:  Dulcimer School and Dulcimer Crossing are the best known.  You'll work with some of the best MD teachers on the planet, but you won't get much individual help.  To fill the gap, a few dulcimer teachers offer one-to-one tuition over Skype.  Contact me for names if you're interested.
And last – by rather a long distance – are books, some with CDs.  I've not really found one that does the complete job.  And look very carefully at the original date of publication.  Most of the current tutors were actually written in the 1970s when dulcimers were designed and played very differently.  So you might well find yourself learning a tuning or style which does not enable you to play easily with others.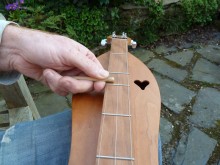 …And talking of styles, one of the early choices will be what kind of music you want to play and in what style.  For old time music, you may want to explore noter/drone playing.  This is where the dulcimer came from and it uses all the instrument's key strengths:  high-pitched melody on the nearest string, the other two strings left as drones, unfretted, singing out a natural harmony.  The melody string is most often played with a short wooden stick or noter, which gives more volume and a special sliding sound.  To see how to play this way – and to appreciate that it has far more potential than its apparent simplicity – look at Robin Clark's tutorial here.
In the US particularly, the modern dulcimer playing style is chord/melody, which uses chord shapes up and down the fretboard and across all three string courses.  You can play a single melody line, arpeggios, full chords or a mixture of all three – more like a guitar or piano.  But with this style, you can either play using your fingers (fingerstyle) or a pick (crosspicking) and the results look and sound very different.  Look at these videos by two virtuosi in their respective styles:  Stephen Seifert  and Linda Brockinton.
Whichever style you pursue, you will welcome new pieces to play which will test your new found skills.  Most dulcimer music comes in a combination of traditional notated music and tab.  Tab is a visual representation of the dulcimer fretboard, looked at from above, with fret numbers marked on relevant strings.  I've provided some tabs in different styles and at different levels here.  The Links page gives some other suggestions.  As your playing progresses, you will need to learn to read the fretboard and pick up tunes quickly when you play with others.  Stephen Seifert has a really good introductory session on this here.
As you find a niche that you feel comfortable in – even if it's that of continuing novice – you will want groups of similar players with whom to share

hints, celebrate successes and demand sympathy.  The biggest and best on-line community is Friends of the Mountain Dulcimer – free to join, with lots of individual interest groups and membership from across the world.  If you ask a dulcimer question – however basic or however obscure – someone somewhere is likely to give you a helpful answer.